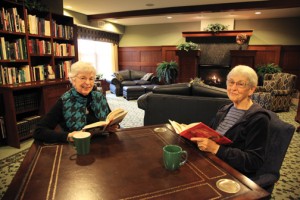 Here is a quick overview of what makes cooperatives different from other housing options for active seniors:
Collective ownership: You own a share of the whole cooperative, not just your individual unit.
Cooperative governance: Owners elect a board of directors from amongst themselves to oversee and govern the operations of the cooperative in the best interests of all.
Community spaces and amenities: Cooperatives offer pleasant and useful shared spaces and amenities, such as community rooms, guest rooms, workshops, libraries, fitness centers and community gardens.
Sociable living: Like you, your neighbors have chosen a lifestyle that emphasizes cooperation and social connectedness.
Financial peace of mind: The monthly fee includes fund reserves to cover fluctuations in operating expenses, maintenance and repairs, and periodic replacement of appliances and other fixtures within the units. These fund reserves prevent the need for unexpected assessments.
Protection of your investment: The share price appreciates by a fixed amount each year under the "limited equity appreciation" formula, which is by far the most common arrangement. There are also market rate cooperatives.
Help with resale: The cooperative helps with resale of shares, conducts tours and open houses, and maintains a waiting list, saving you the sizeable expense of a real estate agent's commission.
For a more detailed comparison of senior housing cooperatives with condominiums, townhouses or apartments, visit our Housing Comparisons page.