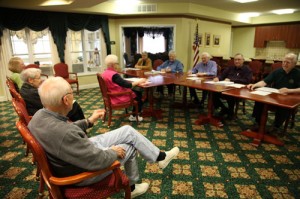 The flip side of freedom is, sometimes, doing too little. After retirement, people stay healthier and feel more satisfied when they are engaged with others, have a sense of purpose, and continue to make use of their talents, interests and expertise.
Senior housing cooperatives thrive when their members are actively involved, and their members thrive when they can contribute in ways that benefit themselves as individuals as well as the community as a whole.
Commitment to community and involvement are THE major differences between cooperatives and other housing options for active seniors. Members join together to act collectively to achieve individual and collective goals.
If you like keeping an eye on things to make sure they are working well, or enjoy fixing things, or like riding a lawn mower or pruning trees, you may want to get involved in the building and grounds or landscaping committees.
If you have a knack for fiscal matters, you may feel at home on budget and finance committees.
If you are a capable writer or photographer, or have a background in journalism or public relations, you might want to serve on the marketing committee and help tell the cooperative's story to the larger community.
If you're a noted party planner, or you love sports and games, or enjoy decorating, or have a gift for drawing people out of their shells, you might want to serve on committees that deal with outings, events, social life or decorations.
Not everyone has to be involved all the time, of course. People often serve for a while, then perhaps switch committees or step aside to let others take a turn. Many committees are available, and there is sure to be one that suits your unique expertise or interests and on which you would enjoy volunteering.